About the Images

Louise Denton Photography images are all captured using the extraordinary lighting provided by mother nature herself. No artificial lighting is used, and nothing is changed in the images to make them appear "supernatural". Darwin landscapes and sunsets are spectacular, and watching the landscape change with the day produces fantastic photography opportunities.

Although post-processing software is used to enhance and touch up images, most of what you see in the images is as it was at the scene. Yes, that includes the bright purples and pinks, the gorgeous flat ocean, the bright orange rocks; I have written a tutorial on how to get the best colour out of your landscape photos here.
My main post processing technique includes steps such as straightening the horizon, sharpening, contrast or reducing noise. I am more than happy to share my methods, so if anyone would like step-by-step explanations of what has been done to a particular image, feel free to get in touch. I have done a basic run through of my workflow here.
About the Prints
All image files are large file sizes. All prints have been proofed before sale. This is to ensure the accuracy of the colours and contrast between monitor and printer.
All photographic prints are printed on matte "Fujicolor Crystal Archive Preferred Paper", with a slight texture. These photographs have an excellent resistance to light fading and are of premium quality.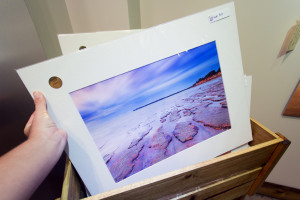 All photographic prints are archival quality and mounted on to premium quality, acid-free foam and mat boards. These provide a great off set to the colours in the photos and provide a clean finish to the image. The materials used are all acid-free, providing a protective safe environment for the photograph.
All canvas prints are printed using Epson printers and inks. All canvas images are coated in "supercoat", protecting the image and giving it a quality finish. Supercoat is hard waring and protects from harsh UV rays.
About the Framing
Louise Denton Photography uses Australian made, high quality, baltic pine moulding in a variety of stainings. This gives you choices when matching your frame to your desired image!
The image below indicates the colours of the moulding I keep in stock. As all products are natural, the staining colour does vary slightly sometimes and all wood has different grain, knots and swirls. The black frame is plain black and has no grain visible. Below the image I have provided a brief description about each colour, to help when making your selection!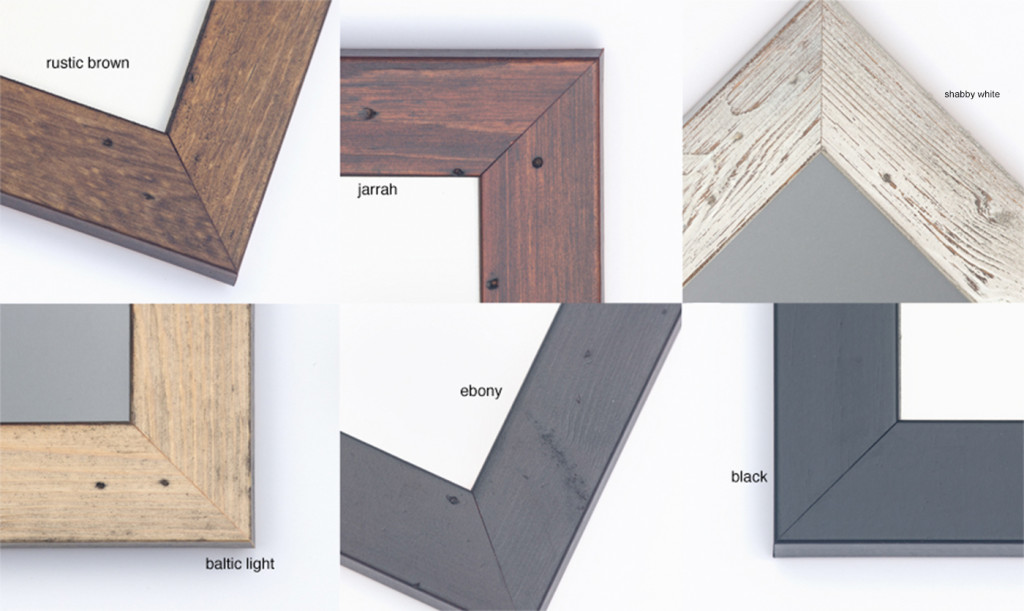 Rustic Brown: Brown natural grain (similar to Jarrah but without the red tinge). Mostly looks good with a white matboard.
Jarrah: Red-brown colour, very popular. Compliments black and white matboard, and most colours
Shabby white: a "white wash" style effect
Black: Plain black, smooth – no grain. Satin style finish, looks great with black and white matboard.
Ebony: Mostly looks black (with grain) when hanging. In the right light, has a very slight tint of deep red colour.
Baltic Light: "Beach" coloured, works with white and black matboard
Any image sold framed includes the photo ready, in the frame, ready to hang on your wall.
I also bring new woods in on a regular basis – visit my stall or shop to check out the new styles.
If you have purchased a Louise Denton Photography image, I would love to see photos of your room with the photography on display; send me a message via the contact page, or share them with me on Facebook!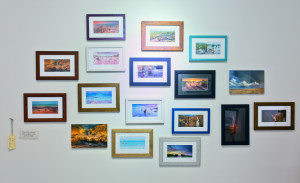 Anything else?
I think I have covered most things… But if you would like more information, you can reach me via the Contact Page