I've just returned from hiking the Table Top Track in Litchfield. The hike is a 39km, multi-day bushwalk, in a loop around the tabletop of Litchfield National Park.
We chose to complete the walk in four days, leaving early from Florence Falls on Saturday morning.
The Tabletop Track can be accessed by one of four different link walks; Florence Falls (approx 1.8km to the tabletop), Walker Creek, Wangi Falls or Greenant Creek (6.3km and very difficult from what I hear). We walked anti-clockwise and ended the walk back at Florence Falls on Tuesday.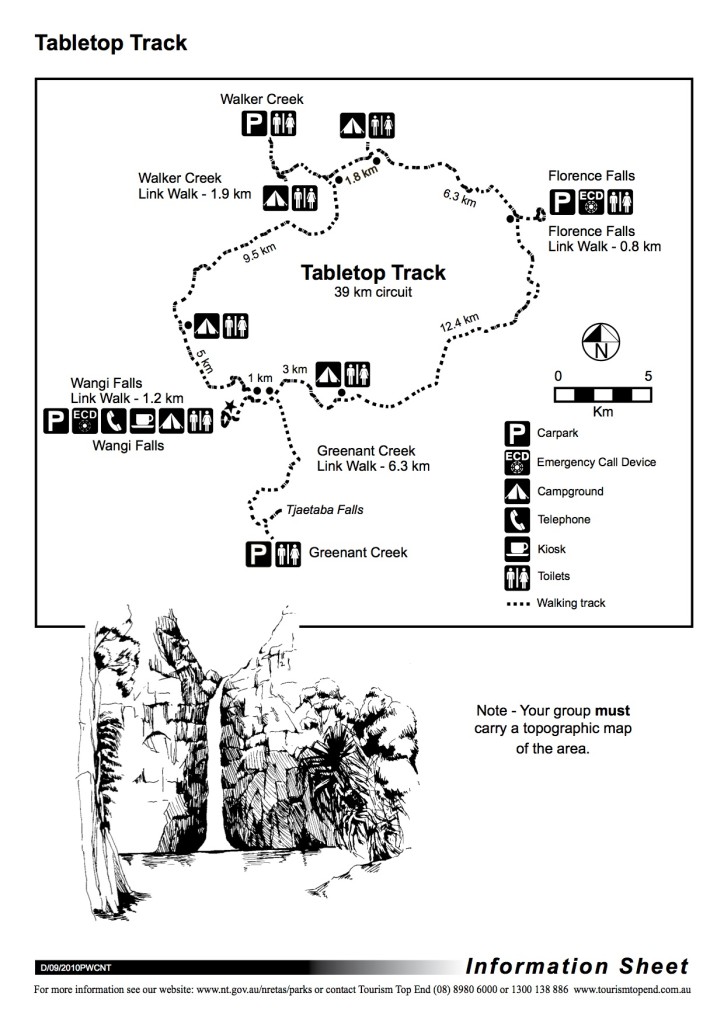 Overview of the walk….
It's late August, and we're in a pretty hot dry period of the calendar. It's late in to the dry season (after a particularly dry wet anyway), and it's hot (did I mention that?). I would do the walk again, but not at this time of year. We found the walk difficult because of the heat, and the campsites we were looking forward to swimming in and relaxing after a hard walk, were dry and unrewarding.
And it was hot!
The walk was much tougher terrain than the Jatbula Trail, but I was also carrying much more weight (my partner didn't walk with me on this trip so I couldn't share my gear with him!) and it was much hotter(!). I think my pack probably weighed around 14kg, which probably doesn't sound like much…. but I only weigh around 52kg so it was a fair weight for me!
I would walk the track in the early dry season in late May or early June. The waterholes would be flowing and the temperature would be cooler. We were hiking in 40 degree heat and looking forward to a swim at the end of the day! We were pretty disheartened to get to camp and be greeted with a muddy, stagnant puddle!
Other tips:
As recommended on the Parks and Wildlife Website, make sure you carry a proper topographic map. For us at this time of year it was essential to figure out where the next water would come from!
Don't walk in via the Greenant Creek link walk – I haven't done it, but heard it's pretty rugged terrain. When we were up on the track, the turn off to Greenant was in a really rugged, rocky area and the track looked pretty non-existent and overgrown.
Walk early in the dry season when it's cooler and water is more readily available
Take water purification tablets, just in case the water source is not well flowing.
Day 1
We left Florence Falls at around 9am heading for a nice easy break in to the walk… around 8.5km. The distance to the tabletop from the Florence Falls carpark (via the Shady Creek Walk) is around 1.6km up a fairly steep hill.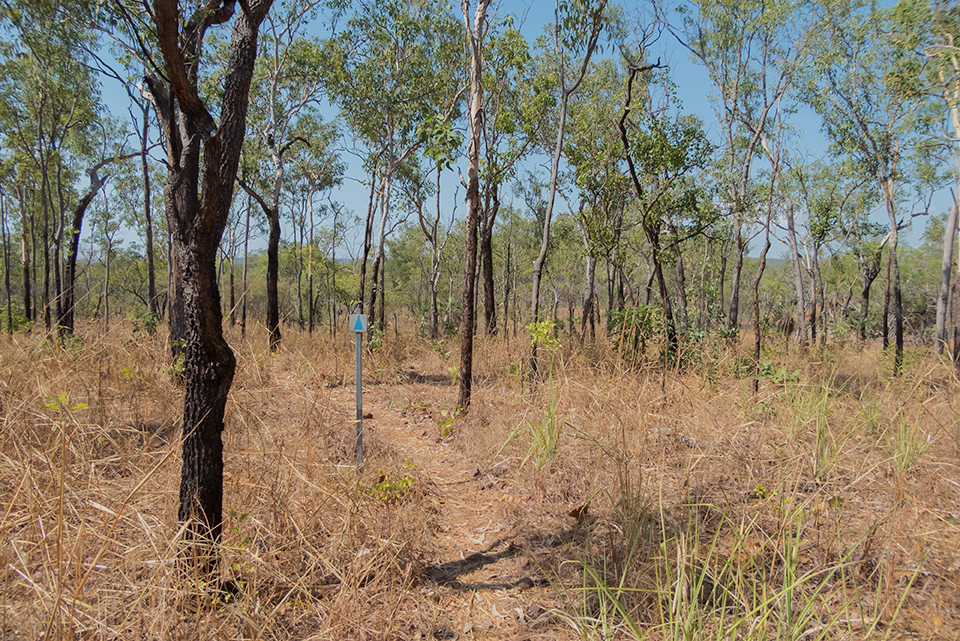 We were greeted by flat woodland up on the tabletop, which made for some pretty quick walking to what we thought was to be our first camp!
However, it was not our first camp! On arriving at the campsite (situated 6.3km from Florence, or 1.8km before the Walker Creek turn off, if heading anti-clockwise), we were disappointed to be greeting with an open, unshady campsite with a stagnant, small, black looking puddle for water. We stopped for lunch anyway, and quickly made the decision we would have to continue on to Walker Creek to camp for the night by the water's edge.
I imagine there would be a bit more of a creek flowing earlier in the year, straight after the wet… But, it's still not a beautiful place to sit and relax, and swimming would be tricky to get through the mozzie-infested monsoon forest!
We were glad to arrive at Walker and have a chance to cool off and relax. I didn't take any shots as I was in bed with no dinner by around 6pm due to feeling completely ruined by the sun and the heat! I took to wearing a shirt over my head for the next three days ha ha (no, I am stupid and I forgot to take a hat).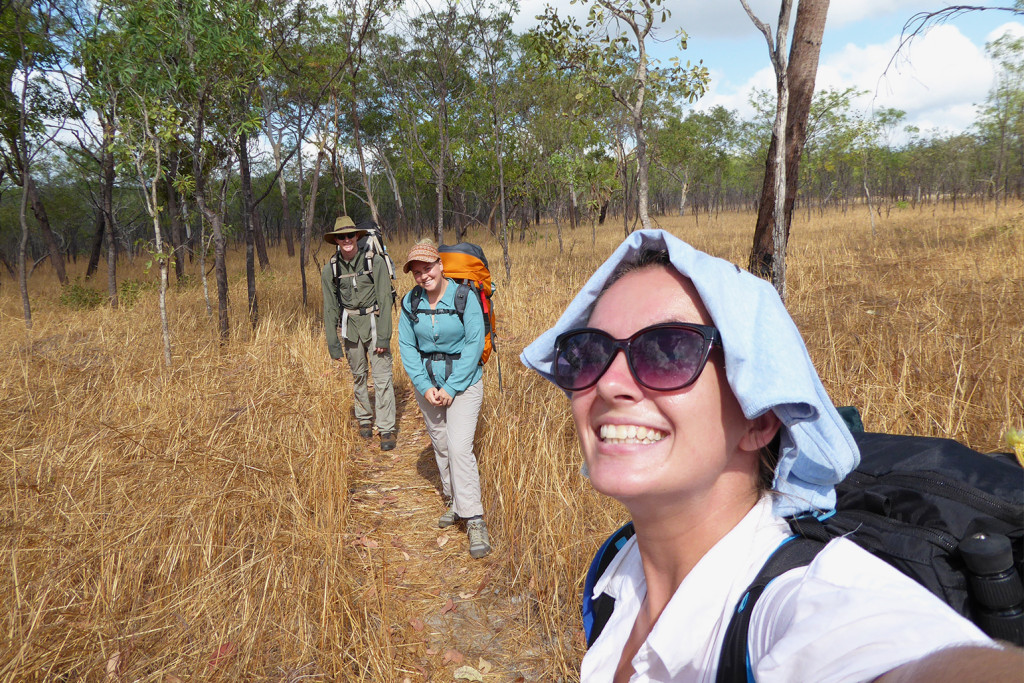 Day 2
By camping at Walker Creek, we had to rejoin the Tabletop Track the following morning, via the 1.8km link walk. We managed to leave camp around 8am, and quickly made our way up on to the track; although up on the tabletop the landscape was pretty flat, the woodland is quite sparse and there is very little shade. We were surprised and lucky to not have walked through any burnt out areas from bushfires.
Arriving at our second campsite, Tjenya Falls, we were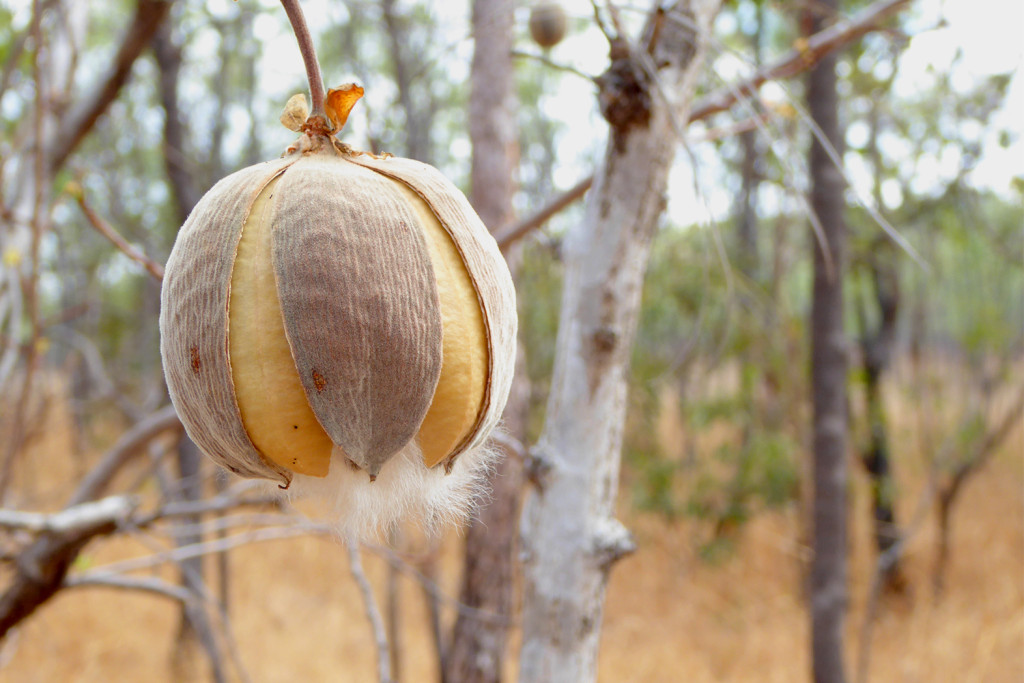 pretty relieved to have a chance to relax and we all sat down for lunch before checking out the waterhole 50m or so down the track away from the campsite. We were high on a ridge, with a gorgeous view over the park below – we were looking forward to check out a spectacular waterfall……. but alas, there was nothing flowing!
A tiny bit of water was seeping from the ground in to a couple of small puddles, trickling down an escarpment into a still looking pool. Still, there was water! So we decided to set up camp. We used water purification tablets in the water that night, as the water was barely flowing.
It was nice to have a bit of a bath in the pools, although I stuck close to the smaller pools protected by rock – the bottom, bigger pool looked like crocodile country (even though we were up on an escarpment and it should have been croc-free!).
Day 3
The start of day 3 was tricky, with a couple of big hills to climb. An amazing view from the top though, and we were glad to start the hike early: it took us over an hour to walk 2km (which was pretty slow for us as we were averaging around 4-5km an hour on easier terrain).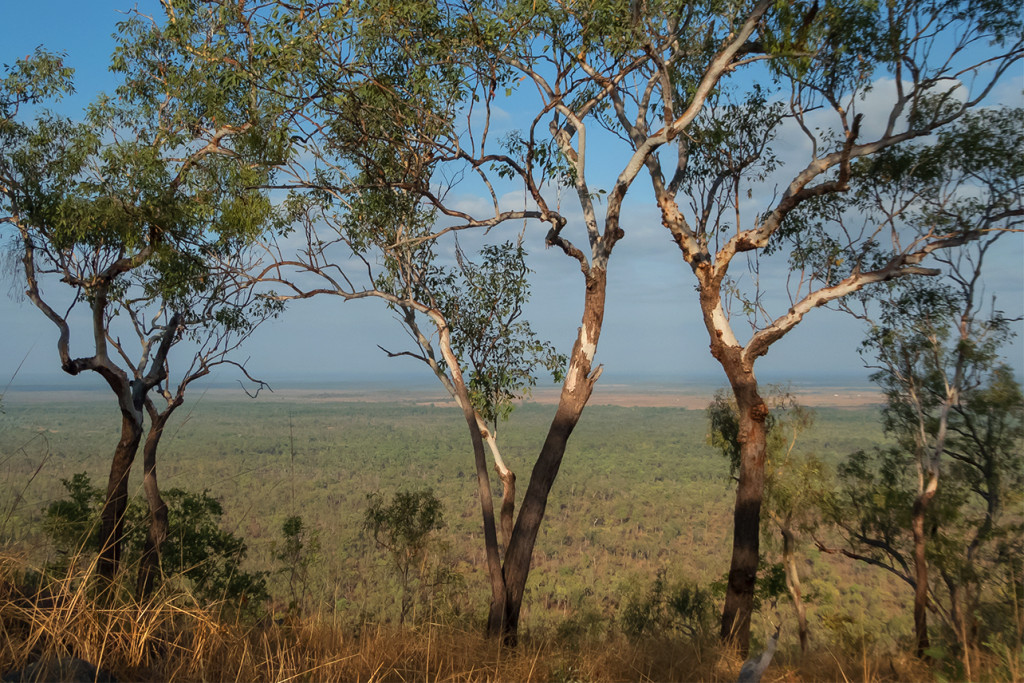 After that 2km start, we came to the best spot of the whole walk. I have no idea why this would not be a designated campsite, the water was fresh and fast flowing. The only reason I could think of was to do with the difficult terrain – no one wants to climb huge hills at the end of the day!
We stopped for a good hour relaxing, swimming and drinking!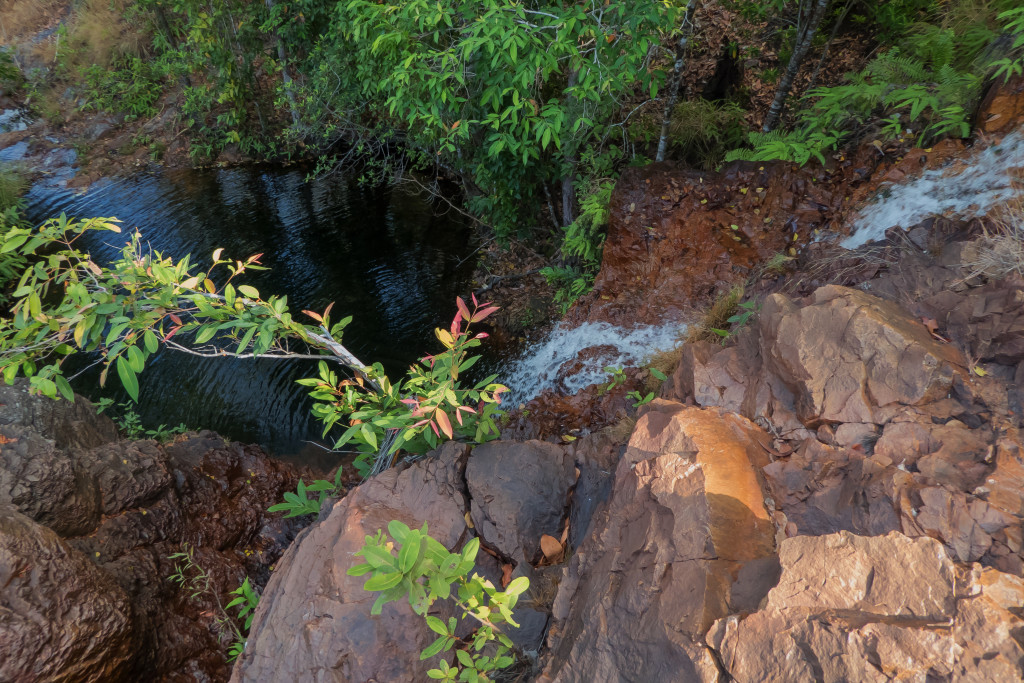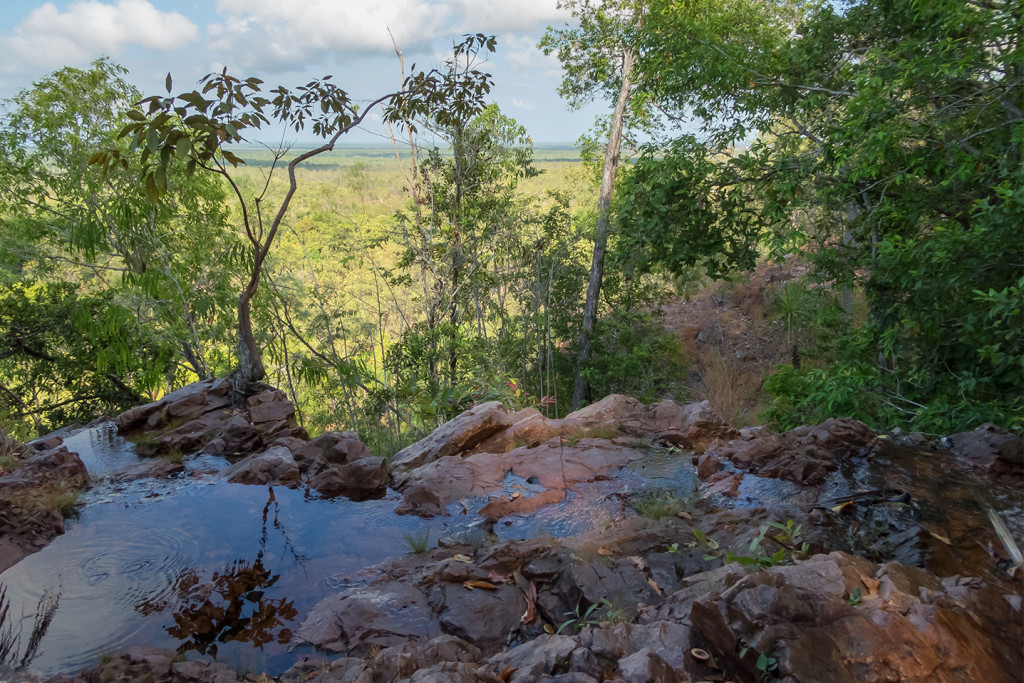 We had another 7km or so to reach the next campsite for the night, which was nicely split up for us in to short sections – another 3km to the Wangi turnoff, another 1km to the Greenant Creek turnoff, and a 3km stint to get us to camp.
There were a couple of small creek crossings in this area, and the landscape did go through a few changes: from woodland, through tall grasses, through monsoon pockets and creeks, we even had a rocky, shady pine forest area which seemed really unusual! The area around Greenant Creek was quite rocky terrain and it definitely slowed our pace down.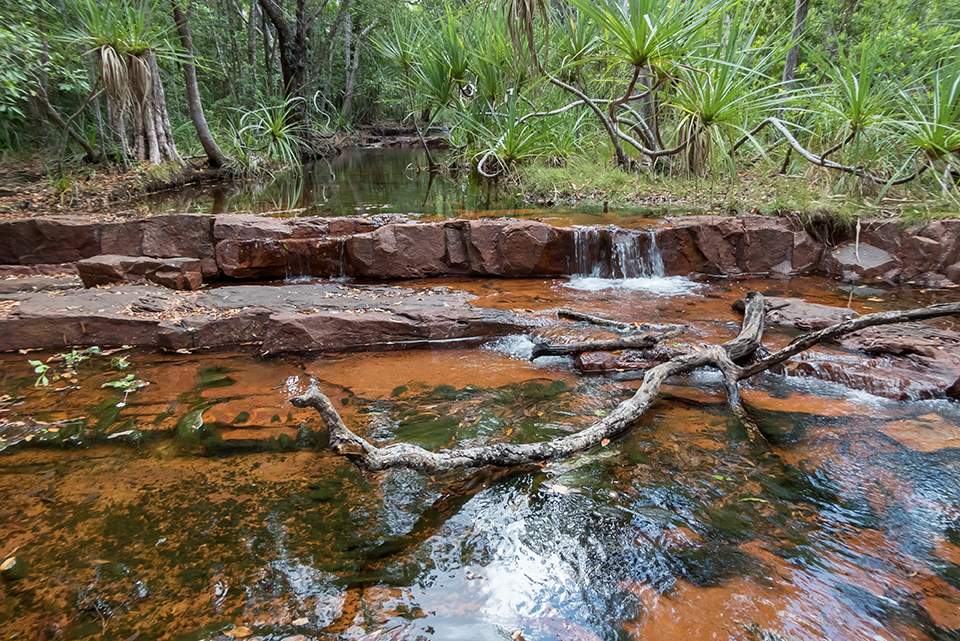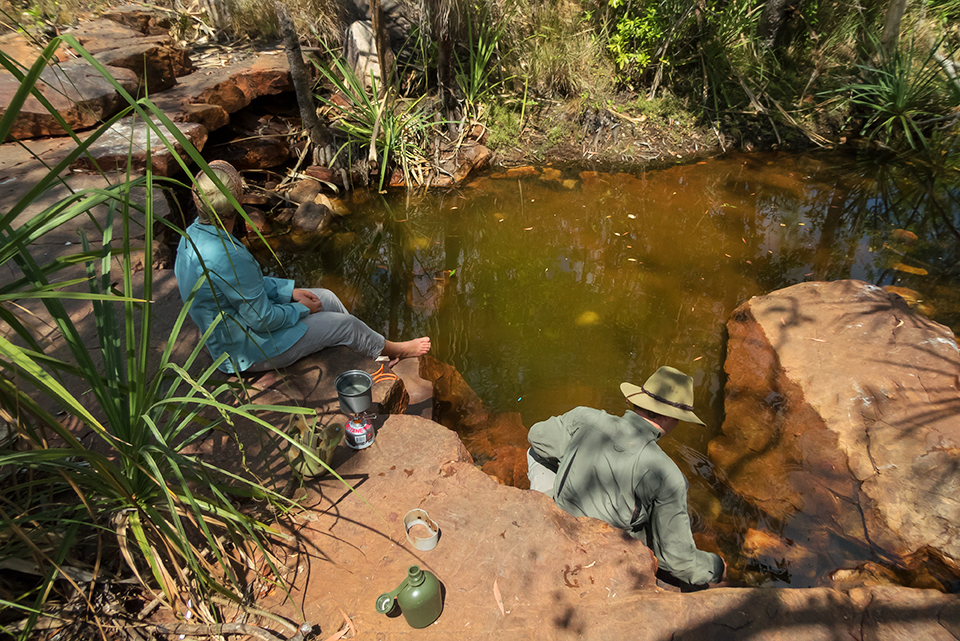 Arriving at camp we were excited to see the campfire… but our excitement again quickly turned to disappointment! The water was not flowing at all and our glorious swimming hole was a green, slimy pool. The ground was really hot due to being all rock, with very little shade.
We decided to push on walking to reduce our distance for the next day: the campsite at this time of year was not a beautiful place to camp! Looking at the map and the altitudes, we decided we had to get water here as there didn't look like many other opportunities to refill…. so we boiled, and cooled, and water tabbed…. And off we went!
Although we did follow a creek line for a while, there was no better water source. There were a few dark puddles which were difficult to access. We stumbled across a couple of wild pigs in the area too and quickly decided that wouldn't be a smart place to set up!
After a quick couple of km, we headed back up on to the Tabletop. The ground was pretty easy going, and before we knew it we'd walked around another 5km or so and stopped for a break.
The sky was looking pretty dark and threatening and we decided we should probably set up tent soon before it started raining. Whilst checking the map to figure out how far we had come, sure enough the heavens opened and it started to rain. Being local to Darwin, we thought at this time of year the shower would be short and sweet… nothing to worry about. Unfortunately we were wrong and the cloud quickly seemed to engulf us and we could no longer see any blue sky. It was bucketing it down, a complete white out and there was nothing we could do but keep walking! The bag had to stay on my back to keep my camera close to my back and as dry as possible.
We quickly came to the fire break and decided it would be a good place to camp – plenty of flat ground to pitch a tent; before we came down off the tabletop. We then had to sit out the rain… And it quickly cooled everything off! Unfortunately for us, being past 5pm, the sun did not come back out and everything remained wet for the night…. tents, clothes, socks…. And was still wet on packing up the next morning.
Day 4
The final day of our walk was a short one, after alking an extra 6km on the day prior. We had around 6km left to return to our car at Florence Falls. The morning was bright but luckily cloudy, which made the walking much more pleasant!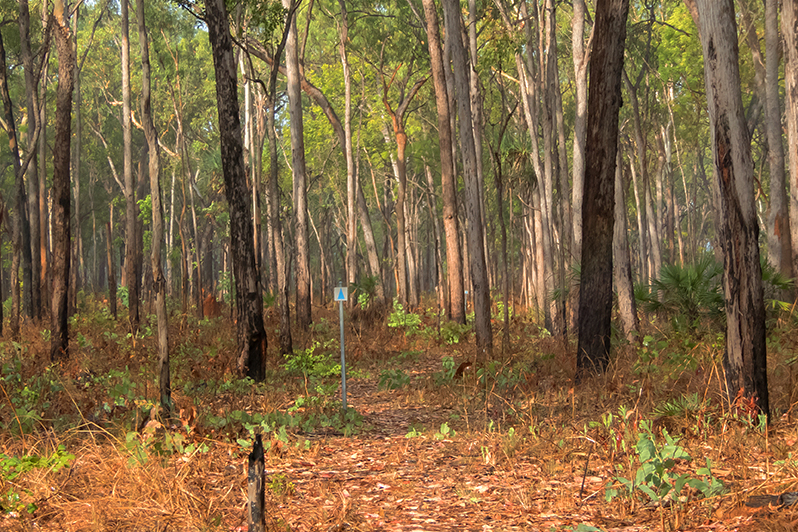 We cooled off and had a much needed wash(!) in Buley Rockholes before our drive home!
Looking back…
I would like to do Tabletop Track again. And luckily it's close to Darwin so it's easy to get to via a sealed road. It's also actually really good that the track is accessible at so many points – it makes it easy to do sections of the walk for a night or two here and there, if you don't have four or five days to do the full loop.
My favourite part was probably between Tjenya Falls and Greenant Creek, so I'd probably do an overnight walk from Wangi to Tjenya and back to Wangi, first.
Our third night (the campsite 3km east of Greenant Creek), I would love to see flowing, so that's another trip too.
If you like hiking and camping, I definitely recommend the track – but you do need to be prepared and ready for a walk!
Just as a comparison, here's a blog from a hiker who completed the walk earlier in to the dry season – there is much more water in his shots than mine!
http://through5eyes.com/2011/07/03/swimming-holes-the-hard-way/